I am a plant girl I love to buy plants so I can put them around the house and my backyard. Since I was a kid we had plants and pets around the house and the house always looked happy and comfortable to live in.
Now being an adult is no different. I love plants that help with the air in the house and beautiful ones out in the yard. There are a few plants that can take your home to the next level. Did you know that interacting with indoor plants can reduce both physiological and psychological stress?
Before you go and buy plants for the inside you should take stock of how much light your home receives throughout the day, and the direction your windows face. With a little love and some water, these indoor plants can make it anywhere.
Great Plants To Have In The House
Click To Tweet
This post may contain click links and affiliate links through various affiliate programs such as Amazon. That means if you click and buy, I may receive a small commission (at zero cost to you). Read disclosure Here
Great Plants To Have In The House
Pothos
Expert Gardener Live Indoor 15in. Tall Green Devil's Ivy Plant (also known as Pothos), Indirect Sunlight, in 7in. Grower Pot. This is the most bought in a house plant. They have this one with the line spot and they also have it plain green which I love and have in my house.
Product Highlights
Easy. Just set it anywhere in your home and enjoy this leafy houseplant
Water when the soil feels dry. Don't allow it to sit in wet soil
Air-purifying. Plants help filter harmful pollutants from indoor air
ZZ Plant
National Plant Network 1-in Zz Plant in Plastic Pot (Houseplant)
They're drought tolerant and incredibly low maintenance.
Includes (1) ZZ plant in a 6" grower container
Typically grown indoors as a houseplant but can be grown outdoors in USDA hardiness zones 9-11
Mature size indoors is 3' tall and 2' wide
Spider Plant
Expert Gardener Live Chlorophytum Plant in a Decorative Hanging Basket – 1.5 Gallon
Plants that give off "instant jungle vibes," like the spider plant, are having a serious moment right now, according to Marino. This one is great it will continue to spur more babies and you don't have to buy more because you can just plant the babies in different containers.
Needs 4-6 hours of daily sun
Hardy to zone 11 (40°F)
Likes to be watered 2-3 times per week
Foliage plant
Plant in the well-drained area; fertilize regularly
Snake Plant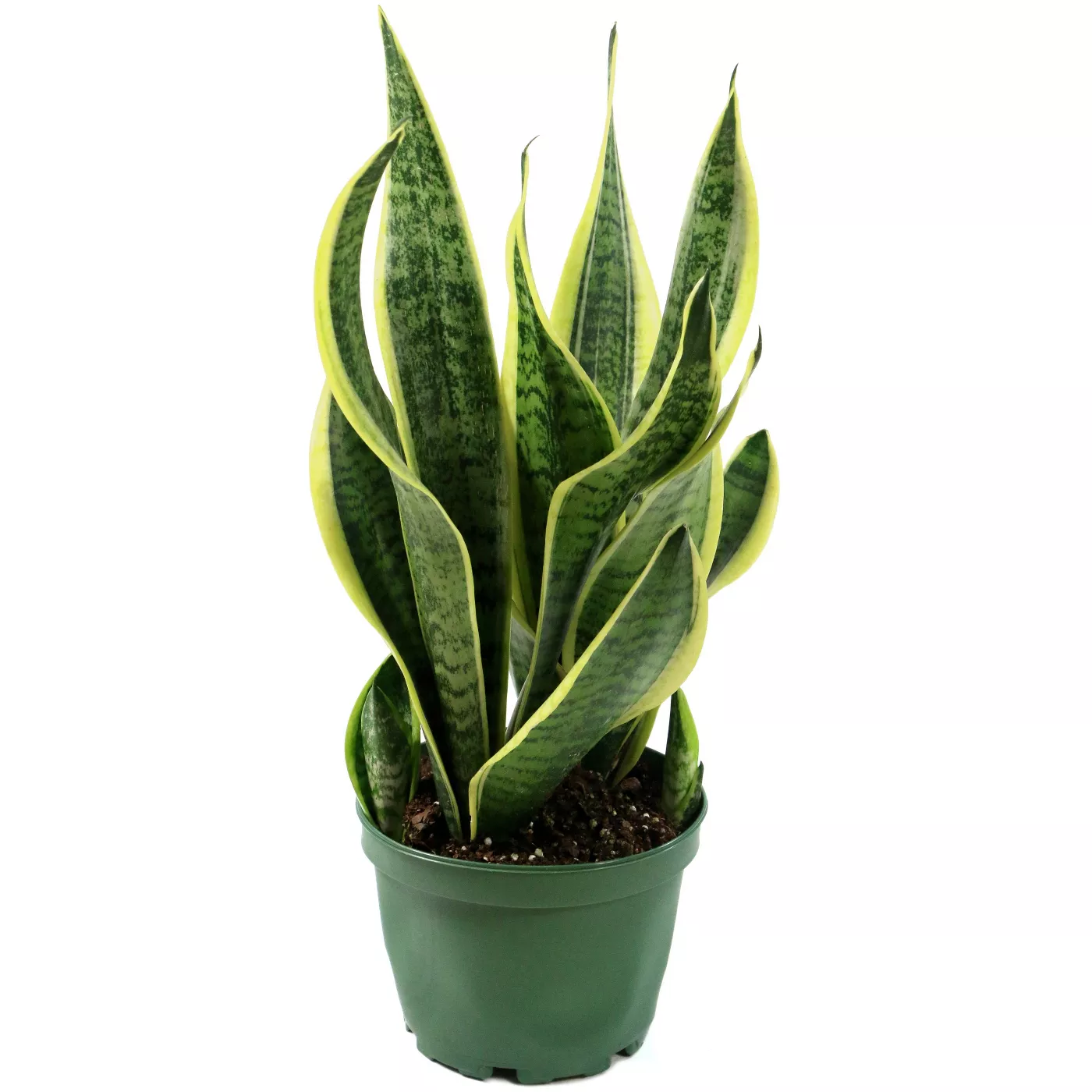 Laurentii Snake Plant – Sansevieria – Impossible to kill! – 6″ Pot
One of the most popular plants for a modern and fashionable design scheme; the Sansevieria laurentii, also known as the Snake Plant, adds a unique architectural element to any room. This plant is one of the best for filtering out formaldehyde which is common in cleaning products, toilet paper, tissues, and personal care products. Put one in your bathroom; it will thrive with low light and humid conditions while helping filter out air pollutants. Because they absorb carbon dioxide and release oxygen at night, sharing your room with these plants could give you a slight oxygen boost while you sleep.
Monstera Deliciosa – Split Leaf Philadendron
Monstera Deliciosa – Split Leaf Philadendron, also known as the Swiss Cheese Plant
You can have this one inside the house as well as outside in your yard.
For best results, grow in well-drained soil
This plant has low water needs, reduce the watering frequency from fall to late winter
Grows in partial shade
Great Plants To Have In The House
Indoor plants don't just look good – they can make us feel good, too. Studies have shown that indoor plants…
Boost your mood, productivity, concentration, and creativity
Reduce your stress, fatigue, sore throats, and colds
Help clean indoor air by absorbing toxins, increasing humidity & producing oxygen
Add life to a sterile space, give privacy and reduce noise levels
Are therapeutic to care for (it's true when we say Plants Make People Happy)
*All of these plants I have in my home and I do have dogs. Now my dogs don't mess with them please make sure that all plants are fine around your fur babies. If they tend to play with your plants please put the plants up where they can't get to them.*
Thank you so much for taking the time to check out this blog if you think others would like to read it please share my link. As always it takes dedication and time to make all this for you please don't change or alter any of my content or claim as yours. All pictures were taken by me or otherwise, I would state where therefrom and you can read that here
*All Pictures are from their website and the main Photo by Kristen Colada Adams on Unsplash