One of my favorite thing in the bedroom is to change the bedding to a different one. I know that doing this more often can bring you not to this like your bedroom.
So what is disliking the bedroom you ask? Well for me is that I have light beige bedroom furniture and I am not rich to change it every month. Disliking the room for me is that it looks the same all the time.
So one of my secrets is changing the bed decore every month. I am not rich all I have to do is have about three different sheets, and a bedspread so when you are going to wash the one that is on the bed you just put on the other spread.
What Comes In a Charisma Meribel 3 Piece Duvet?
Click To Tweet
This post may contain affiliate links. That means if you click and buy, I may receive a small commission (at zero cost to you). Read disclosure Here
Now I am loving this Charisma Meribel 3 piece duvet. I have to say that It is very beautiful and the white brings more light while the blue brings a change of ambiance and look to the bedroom.
What is a Duvet?
A duvet cover is a protective fabric cover that slips over your down comforter or duvet insert, just like how a pillowcase works with a pillow. Each duvet is unfilled so you can use your own down or down alternative comforter insert that much be purchased separately.
I have about 3 duvet inserts that I use inside the duvet covers or I just use them alone and a few comforter sets.
What Comes In a Charisma Meribel 3 Piece Duvet?
In a Charisma Meribel 3 Piece duvet set you will receive a stately print that uses a soft stripe with a large foulard print on the face of the duvet cover and pillow shams.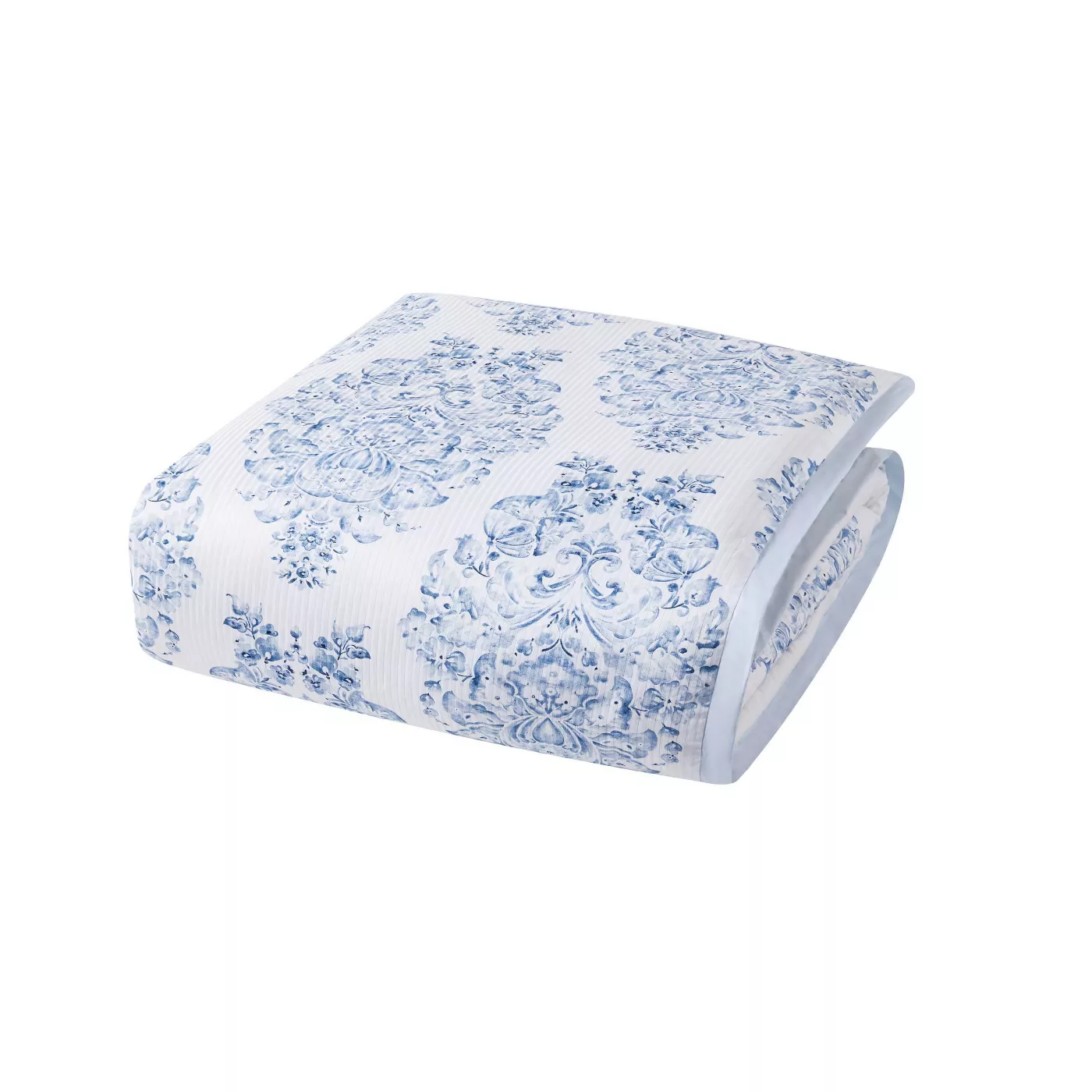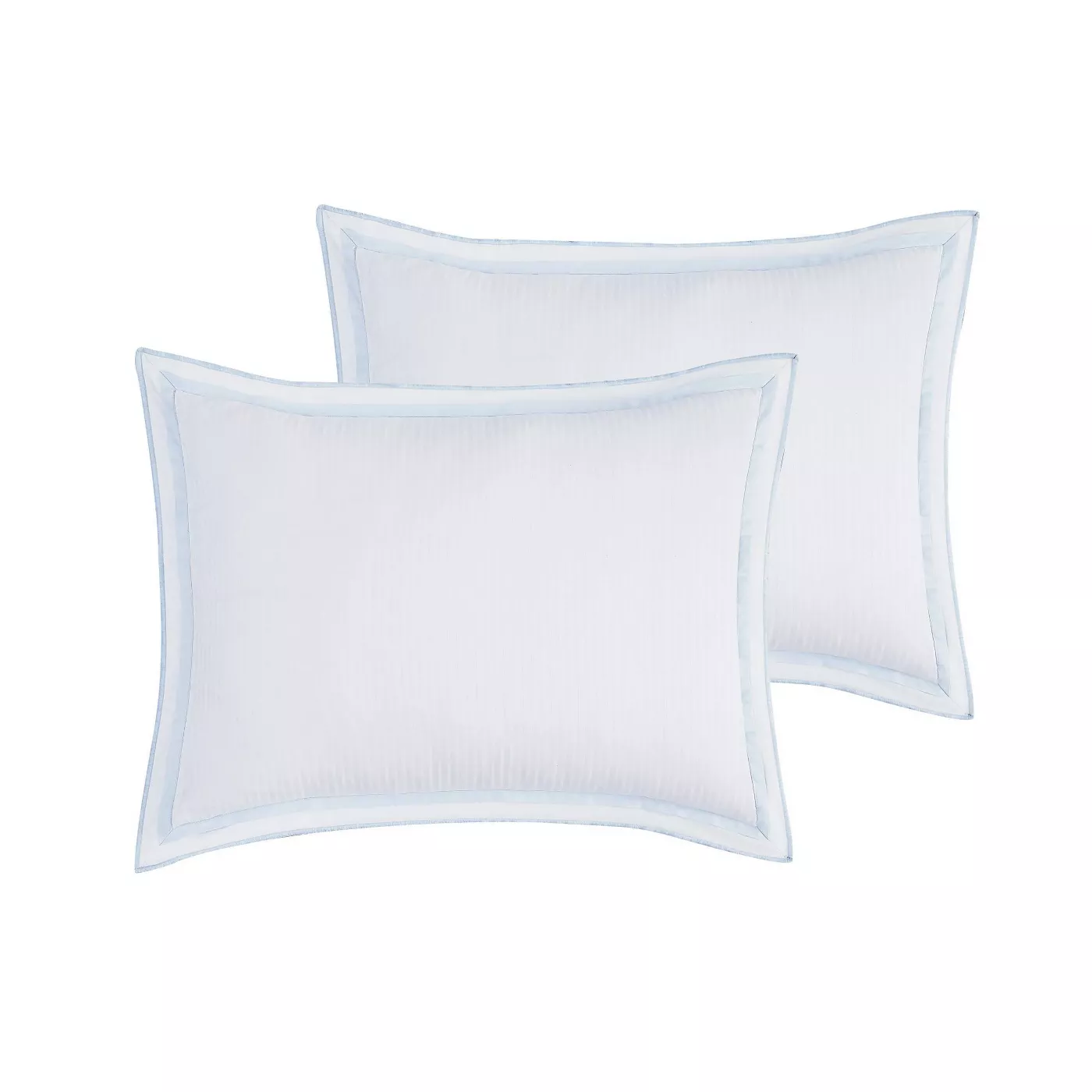 Benefits of a Duvet Cover
 As most don't know or have never seen a duvet cover, using a duvet will protect your comforter from stains, dirt, and dust, and it can be conveniently cleaned in your own washing machine. Exciting that you don't have to fight to put your comforter in the washer just taking off the duvet cover and washing it by itself and also keeping your comforter in a protective cover will keep it safe from the wear and tear of everyday use.
Duvet covers also make it a breeze to change the look of your bedroom. which I mention in the beginning. Duvet covers can often be found in a set with matching pillowcases or shams to provide a coordinated look.
 Also cotton and polyester are the most common material for duvet covers because they are comfortable, easy to care for and come in almost any style you're looking for. 
What's Included
Duvet Cover Included
It includes Duvet Corner Ties
How To Secure Duvet Covers on Comforters
Most duvet covers come with ties on the inside to attach to the corners of your comforter to keep your comforter from shifting around or bunching up inside the cover. 
How to Care for Duvet Covers
Always check the manufacturer's instructions for specific care guidelines for your duvet cover because different materials will require varying degrees of care, so be mindful of the washing and drying rules for the material.
What Comes In a Charisma Meribel 3 Piece Duvet?
*All Pictures are from their website*
Many thanks to Charisma Meribel and Tryitsampling for providing this product. All opinions are 100% my own and NOT influenced by monetary compensation.  I did receive a sample of the product in exchange for this review.
Thank you so much for taking the time to check out this blog if you think others would like to read it please share my link. As always it takes dedication and time to make all this for you please don't change or alter any of my content or claim as yours. All pictures were taken by me or otherwise, I would state where therefrom and you can read that here